Field Hockey Team Helps Fellow Player on the Road to Recovery
The Rice Field Hockey Team hosted a bake sale in the main lobby after school on Friday, March 24 and Monday, March 27. They did this to raise funds for Anna Buhrmann, a 19-year-old German first-year student who played field hockey at Sacred Heart University in Connecticut. She crashed into a tree and severely injured herself while skiing on March 6, 2023.
Buhrmann, along with Kenzie Riccardi and their friend Alyssa Cunningham, went to Cooper Mountain, Colorado to ski over spring break last month. After the accident, she underwent several hours of surgery where it was revealed that she had damaged her C6 and C7 vertebrae causing permanent paralysis from her shoulders down.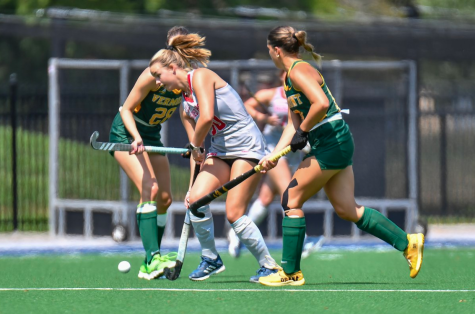 Riccardi created a GoFundMe to raise money for medical bills, rehabilitation, and travel costs for Buhrmann's parents to be with her through this troubling time in her life.
On March 9, 2023, a few days after the GoFundMe had been posted, Riccardi posted an update on Buhrmann recovery: "Anna just wanted to say how thankful she is for the love and compassion everyone has shown…She continues to smile through the pain."
Though their season is over, the Rice Field Hockey team got together after they heard what happened to their fellow player and had a bake sale to raise money for Buhrmann. Freshman Maryann Nunn was the one that brought up the idea for this fundraiser.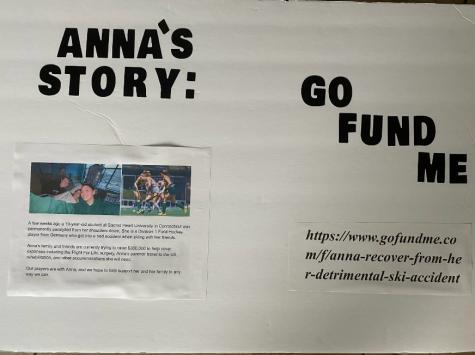 "My aunt went to Sacred Heart and still sometimes coaches and likes to be in touch with the Sacred Heart coach," Nunn said. "And so she heard about it and told my family and me."
However, just because Nunn had the idea does not mean she was the only one involved.
"We had a sign up sheet as the field hockey team," junior Gabriella Allbee said. "For those of us who could participate, we brought in some baked goods. But Maryann was really the head of this. She got us started, she rallied the troops and got it going."
The idea of Rice doing a fundraiser for this seemed to be a "perfect" fit according to Nunn.
"I thought it was perfect," Nunn said."How they are a Catholic school, we're a Catholic school. I thought it would be really neat for the field hockey team to raise money for another Catholic field hockey team."
Since then Buhrmann has continued working towards recovery. On April 1 she posted a photo on her Instagram with the caption, "Update- First time outside in 3.5 weeks. Currently waiting to go to rehab."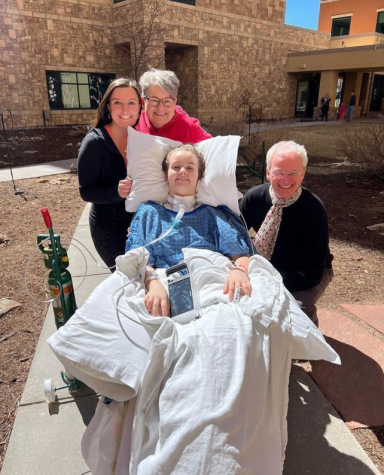 If you are interested in donating to the GoFundMe sent up for Buhrmann's recovery here is the link: https://www.GoFundMe.com/f/anna-recover-from-her-detrimental-ski-accident?utm_campaign=p_cp+share-sheet&utm_content=undefined&utm_medium=copy_link_all&utm_source=customer&utm_term=undefined