A Different Look at America
In other parts of the world, America is known for being a country of opportunities. Big cities like New York, Los Angeles, Dallas, and Miami are painting the picture of what America looks like for people outside the United States.
People living outside the United States are most familiar with big and famous states like New York, California, etc. Smaller states like Vermont, Maine, and New Hampshire don't get that much attention.
"I thought Burlington would have been a bit bigger," said international student Levente Pakozdi from Hungary who moved to Vermont. "Before I came here, I lived in a big city like Budapest or when I was in England; it was like three times bigger than Burlington."
For most people who come from other countries, it might be a surprise that America is full of small towns and there isn't a metropolitan city in each state. International students who come from big cities like Budapest and Montreal have to adjust to living in smaller towns. For some people, it can be tough, and for some people who are coming from smaller places than Burlington, it can be an eye-opening experience to live in a city like Burlington.
"I came here from a smaller place. So I think it's pretty big, actually. I think there's a lot of stuff to do," said international student, Justin Sullivan '24 from New Richmond, Quebec.
For people who have been living their whole lives in smaller towns, it can be a good choice to move to Burlington.
Burlington isn't too big of a city so it won't stress people out with traffic and the amount of people. Burlington also has a bunch of stuff to do even when it isn't the biggest place. "I think Church Street is pretty cool," Sullivan said. "Go get some ice cream and visit the waterfront, I think those two are my favorite places to visit here."
Social media is known for making things look better than they actually are. America has always been a big cultural attraction, because of its glorious reputation as a country of opportunities. Many people from all around the world have the United States on their bucket list and dream to visit there at some point.
Nowadays social media is full of videos about people living their best life in big cities and for people outside the states, it can be a little bit misleading. Many people come here to chase their dreams and make their dreams come true. "Before coming here I was expecting some movie stuff, because that's the only place where I saw it. You know, a lot of fans at the sports games and things like that," Pakozdi said.
Social media and movies make America feel like a dreamland, that's because since we were little kids we have been seeing movies made in New York and other places. When imagining America as European it just feels like a magical place, that there is something special about it.
Xavier Pariseau, '24 from Montreal, QC, also shared how he had pictured America before coming here. "In the movies I saw people being friendly and positive all the time so I thought it would have been similar, but when I came here it didn't answer to my expectations," he said.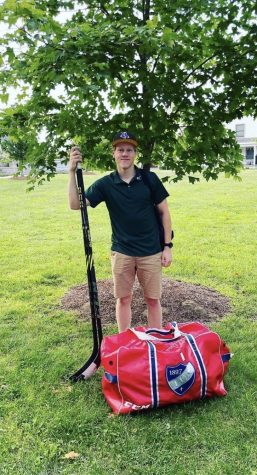 American schools are famous all around the world for their school spirit and of course they are way to an American college. "School here is way easier," Pakozdi said. "Except for AP classes which are pretty hard, but I would say that school back in Hungary is way harder than here. I really like that you can choose your own classes that we don't have back home."
Rice Memorial High School as a private school offers many advantages, Rice has a large course selection and Rice gives you a high-quality education. As an American school, sports are very well presented in Rice. Rice offers 16 varsity sports and 13 other teams across three seasons.
Rice is famous for its prep hockey program, the program has been going on for many years. Many hockey players join Rice for hockey from all around the world, chasing the American dream of playing college hockey later in their careers. However, the style of hockey is slightly different.
"It's a different style of play, and it's differently organized and coaching wise it's different," Justin Sullivan a prep hockey player said. "Took some time to get used to this playing style and had to adjust, but both have pros and cons."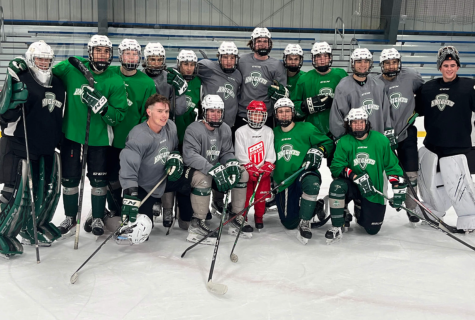 For international students, Rice Memorial high school is a good experience. Rice has a big background of recruiting international students, which is a good thing. Rice is a tight community and international students are treated well here. At Rice, you get a typical high school experience and high-level education.
"It was a sick experience. I'm buzzing to be in the US. I'm gonna stay here for at least the next couple of years. You know, I really like the US. It's the land of opportunity," said Pakozdi. "Just living the American dream and doing my best if I can."