The Value of Misogyny in The Music Man
This March, the Rice Drama Department will present Meredith Wilson's The Music Man. Like many products of the 1950s, the show contains elements that are at best problematic, and at worst morally reprehensible. Examples of casual misogyny abound. To begin, the worth of the lead female character, Marian Paroo, is directly related to her marriage prospects. "If a woman's got a husband/and you've got none/why should she take advice from you?" questions her mother. The mayor of River City, the show's setting, complains that "[his] wife is off dancing at any and all hours instead of in the home." The main dance number, Shipoopi, begins with the lyrics "A woman who'll kiss/on the very first date/is usu'ly a hussy." Even Harold Hill, the hero of the tale, disses a "dewy young miss who keeps resisting/ all the time she keeps insisting" and praises "a girl with a touch of sin" in the song The Sadder But Wiser Girl. Anyone who reads the script can easily point out dozens more instances of language and behavior that would simply not be accepted by today's standards.
Rice's response? Lean into it.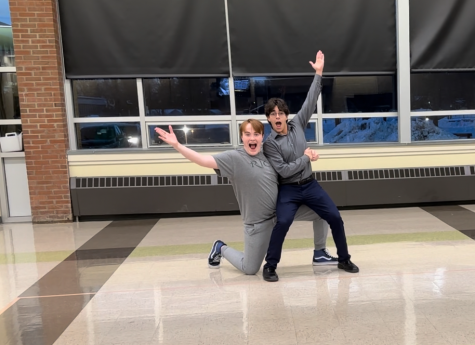 Kevin Ginter, the show's producer and music director, explains his rationale: "You have to dig into it and not avoid it by saying 'This is what it is. It wasn't great. It's not a good thing, but we're trying to learn from it.'" While frustrating, this snapshot in time cannot be erased, and Ginter is not trying to. History classes are required in school so that students can understand from the past, and know not to repeat it. Omitting certain elements results in an incomplete grasp of the content. The Drama Department's strategy is to think of The Music Man in the same way: an opportunity to learn that should not be ignored.
Madi Olsen supports the response. She plays Charlie Cowell, whom she describes as "a raging misogynist." She feels that "leaning into the character would be better than avoiding it. Because if [she] were to avoid that element then a lot of things would have to be portrayed differently." Nevertheless, the sexist nature of the part was challenging for Olsen. "I feel like I really shouldn't be saying [some of these lines] and I realize it's not great, but it's good to show how much and how far we've come."
Not everyone agrees with the approach. Kerna Bond-Bardes plays Zaneeta Shinn, a principal love interest and the Mayor's daughter. "It's disappointing," she says of the show's contents. "At this point, I just tune out the lyrics to Shipoopi because I feel like I'm going to punch someone every time I hear them. It's scary to hear some of the terrible things people say and to hear how similar they are to the present." Connor Trombly, who sings Shipoopi, is conflicted as well. "It's definitely been uncomfortable at times. I try to ignore the lyrics while I'm saying them."
Rice is no stranger to potentially controversial material. One example is in Honors American Literature, where Tim Fiztgerald's class reads Adventures of Huckleberry Finn. Across the nation, schools banned the book because of its language, but Rice has not followed suit. When asked about the selection of material, Fitzgerald said "I don't do things because they're controversial. I do them because I think they're important."
The Music Man is in a similar boat. It contains upsetting messages, but that is not why it was selected. "What The Music Man is truly about is the transformative power of music," says Ginter. "Even though it comes in the vehicle of this sheisty sleazy man that comes to town."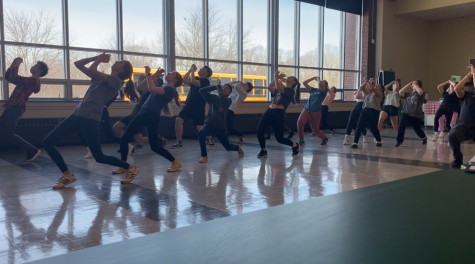 The transformations in question include a shy child finding a voice, the lead male establishing a moral compass, and the town's citizens becoming more open to outside perspectives. Beyond the plot, the show features intricate songs, fun dancing, and a humorous script. While flawed, overall the tale is valuable. "There are stories worth telling that include perspectives that aren't perfect in the moral sense," says Fitzgerald.
Already, the content of the show has caused reflection amongst the cast. "I've definitely become more conscious of how language affects people," says cast member Connor Trombly. "When they were making the musical, maybe the writers knew what they put in it was wrong, but it was still acceptable. That made me think about stuff I'm doing in my everyday life that could hurt others, and really work on making sure what I'm saying and doing is OK".
Our society, while far from utopian, has evolved tremendously from the one depicted in River City. We cannot celebrate that progress without knowing where we once were. Bond Bardes notes that even within the timeline of the plot, the women of River City gain agency and respect. When The Music Man was initially released, none of these present concerns were viewed as legitimate problems. The very fact that we take issue with the language and behavior now is a sign of success. "We've come a long way,' says Bond-Bardes 'but we still have work to do, and that work shouldn't be taken lightly." By highlighting problematic elements of our history, The Music Man helps ensure that that work continues in a forward direction.
The Music Man will be performed at Christ the King School on March 17 and 18 at 7 pm, and March 19 at 2 pm.
Tickets can be purchased here. (Free for Rice Students, $5 for Students/Children, $10 for Seniors, and $15 for Adults)