Poetry Out Loud Captivates the School
On February 2, 2023, the Rice community gathered in the gym as it has for over a decade to listen to the annual Poetry Out Loud competition.
Earlier this year, each English class participated in a class-wide recitation. The best students were chosen from the classroom to compete at this school-wide level. The finalists included (in order of recitations):
Liza Carney
Grace Marroquin
Elizabeth Cunningham
Giles Heilman
Evey Slavik
Kiera Underwood
Aiden Rivait
Allison Winslow
Hannah Cunningham
Katya Kulapin
Moorea Lambert
Lili Diemer
Caroline Kittell
Connor Trombley
The judges included English teachers, Mr. Fitzgerald, Ms. Oldham, and Ms. Titus, Mr. Clas checking for accuracy, and Mr. DiFalco scorekeeping. The audience watched with visible enthusiasm, as applause echoed after each student.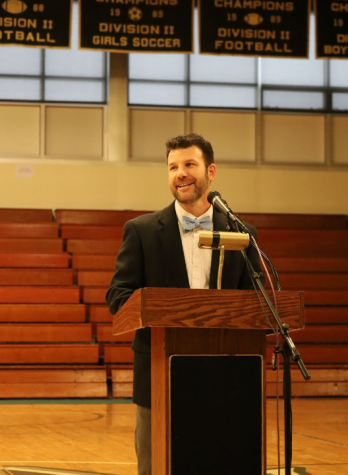 As quite a unique event, Poetry Out Loud gives students the ability to practice public speaking and memorization. English teacher Timothy Fitzgerald explained the national scoring criteria saying they judge for, "physical presence, voice and articulation, dramatic appropriateness, evidence of understanding, and there's a row for overall performance."
The students were required to dig deep into their poems to express meaning through their recitation. This has many values. "One of the most powerful benefits of poetry, of all literature, is having the experience of reading the ideas and voice of a person whose identity does not match your own," said Matarazzo. "Poetry should expand our understanding of the world around us and all the people in it."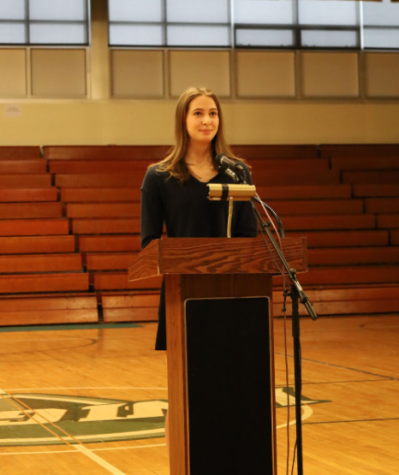 According to the Vermont Arts Council, the competition's winner will advance to the regional level, representing Rice at the Barre Opera House on March 9th. The winner of the regional level goes on to the state level, and that winner goes on to the national level, in Washington D.C. The last Rice student to compete at the national level was Maggie Fitzgerald in 2016. This year's results were as follows:
1st place: Moorea Lambert ("Flowers" by Cynthia Zarin)
2nd place: Katya Kulapin ("Spring" by Gerard Manly Hopkins)
3rd place(tie): Caroline Kittell ("Abandoned Farmhouse" by Ted Kooser) and Lili Diemer ("Miss you. Would like to grab that chilled tofu we love." by Gabrielle Calvocoressi)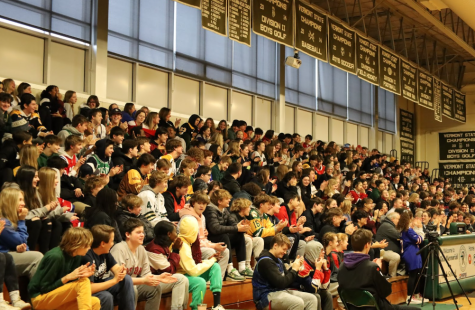 "Everyone always connects over a shared experience because everyone has to do it in the classroom… There's a good amount of appreciation and respect when people go to do it in front of the school because everyone's done it" winner junior, Moorea Lambert said. Poetry Out Loud gives Rice students new, or different opportunities to express themselves in front of their peers. Mr. Fitzgerald added, "It helps to build a school culture that's not just about the big basketball or the big football game or whatever is going on with sports and it sends a message to people that the life of the school is also about expression, beauty, and art."