Two Sophomores Going the Distance
The girls' indoor track team won the State Championships on February 4, 2023. For two sophomores, the season is not yet over: Evey Slavik and Elizabeth Cunningham have qualified to participate in the New England Indoor Track Championships to be held next month at the New Balance Track in Boston.
The girl's indoor track team trains at UVM every day. Coach McKenna thinks it a good transition into the outdoor season for some athletes. This year the team participated in five meets, including the State Championships.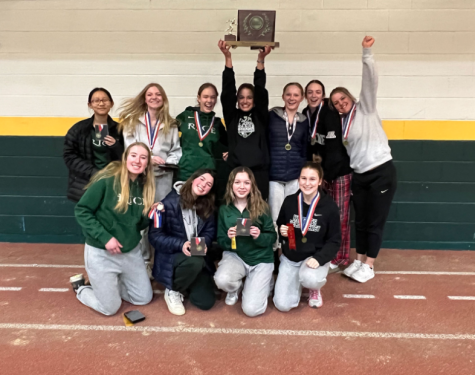 Mark McKenna '78 has coached the Rice Memorial High School outdoor track team for over thirty-three years and the indoor track team for over twenty years. He has led the indoor team to seven State Championships, including one this year. He coaches alongside Oliver Wood '14 and Dave Bombard '85.
The New England meet provides a unique opportunity for select runners.
"It's all about individuals and letting them concentrate on their 'best' event without the burden of running multiple races," McKenna explains, "We typically see personal best results for the athletes. The excitement and competition help push the athletes to new levels." McKenna is hopeful that Slavik and Cunningham will at least beat their records, if not win their events. Instead of having to "strategize" and conserve their energy, these athletes can go full out on their events.
"I'm really excited to go to Boston and have the new experience and hopefully PR [Personal Record] on the track," Slavik explained. Winning is not her priority but pushing herself to do the best she can is.
To run in the New England meet, runners must place top six in their respective events at the State Championships. Slavik and Cunningham, both sophomores, have qualified to participate in distance events. Cunningham placed first in the 600, 1000, and 1500-meter runs at the State Championships this year. Slavik placed second in the 600, 1000, and 1500-meter runs. Both were a part of the winning 4X400-meter relay team. Rice Memorial High School is not sending any relay teams to New Englands this year.
Slavik qualified, for her first New Englands appearance, to run in the 1500-meter run. Cunningham returns to New Englands for her second time to run in the 1-kilometer run along with the 1500-meter run.
"I went into the race with a goal in mind: to set a personal record. While I achieved it, I gained more than a better time from the meet" Cunningham says, of her first New Englands experience, "I began to view track as a journey, taking every opportunity to both challenge myself and improve." Cunningham sees every track meet as an opportunity to improve her own time and meet her goals, including the upcoming New England meet.
Slavik and Cunningham have been running track together for around four years, starting at Edmunds Middle school. They run both outdoor and indoor track and train for distance events like the 600 meter, 1500 meter, the 1 kilometer, and outdoors, the 3 kilometers.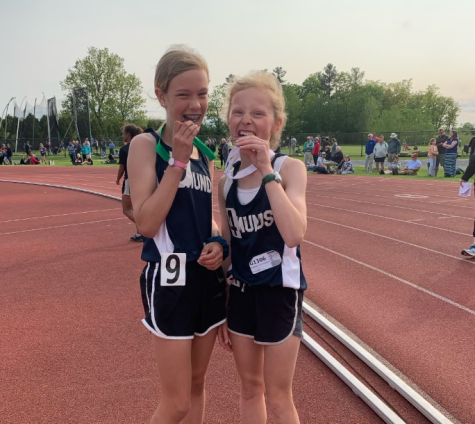 "It's a unique sport in that it's an individual and team sport," Slavik explains. Cunningham and Slavik both enjoy being on a team in which they can train and improve their own running.
"To run at the highest level in New England, it takes a high level of physical fitness," coach Wood said. "Evey and Elizabeth have attained their fitness this season through consistent, conscientious training."
These two runners are truly going the distance.